Our Watershed
The Bitterroot Water Partnership operates in the Bitterroot Watershed of western Montana. Although our work creates benefits downstream, we focus all our learning and restoration efforts in our home watershed.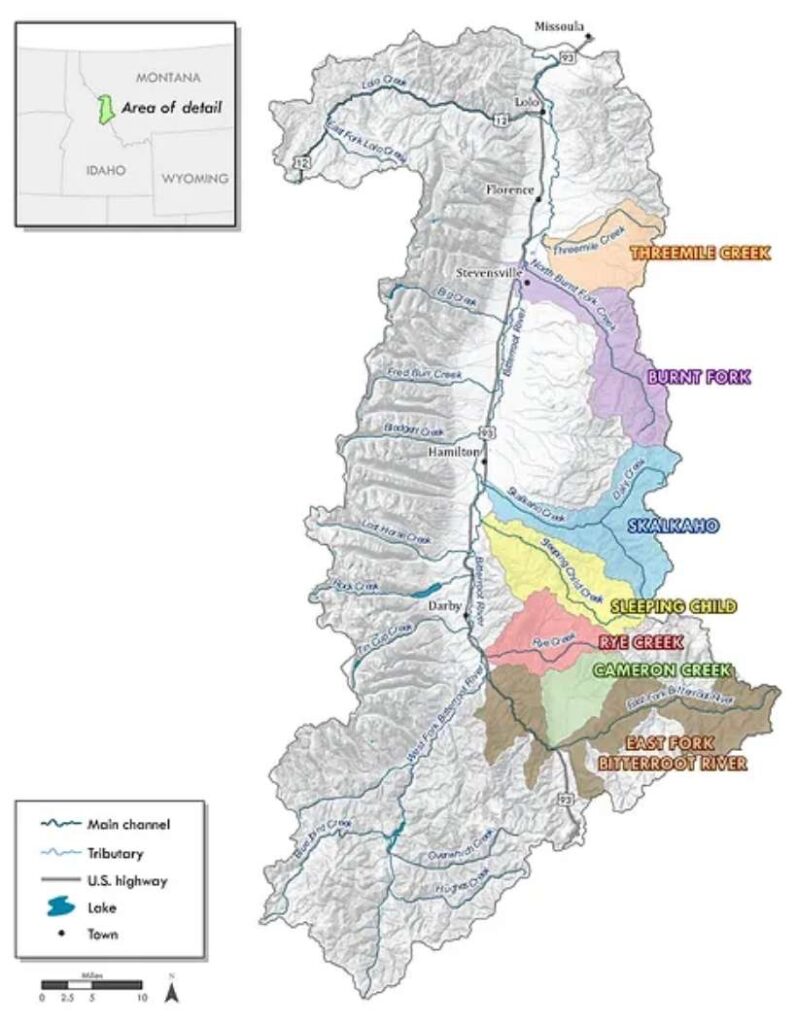 Where is the Bitterroot Watershed?
Our watershed is an area of 2,899 square miles located in the Rocky Mountains of Western Montana.
The area is bordered by the crest of the Bitterroot Mountains to the West, and the crest of the Sapphire Mountains to the East, the headwaters of the Bitterroot River to the South at Lost Trail Pass on the Idaho/Montana border, and North at the confluence of the Bitterroot River with the Clark Fork River in Missoula, MT.
What is a Watershed?
A watershed is an area of land; from ridge to ridge that drains all its water to one particular waterway. The Bitterroot Watershed is the area where all the water in the forks, tributaries, and in the ground eventually flows into the Bitterroot River.
What makes the Bitterroot watershed unique?
The Bitterroot Watershed is complex and diverse for countless reasons.
Tributaries – There are more tributaries entering the main stem of the river per river mile than any other major river in Montana.
Irrigation – Established in the late 1800's, the irrigation system is made of several irrigation districts and is one of the largest and most complex in Montana.
Demographics – High growth rates and corresponding demographic trends are shifting the economics of Ravalli County to include more than the traditional agriculture and timber bases. In addition, a portion of the watershed lies within Missoula County as well as the City of Missoula.
The Bitterroot Watershed
The Bitterroot Watershed is characterized by a wide valley and meandering river channel with riparian forest and floodplain. This watershed includes high, glaciate mountains with alpine ridges and cirques at higher elevations and glacial and lake basins at lower elevations. Elevations range from 10,157 feet at Trapper Peak in the Bitterroot Mountain Range to 3,120 feet at the lowest point in the Valley.